While traveling to her first post as a governess, Helen Denville is drawn into an adventure with the infamous gamester, Mr. Darcy. While helping him recover an item that is of great value to him, she loses her heart to him. Once he recovers that item, will he offer her his heart?
Impoverished Helen Denville is traveling to her new post as a governess,when she is accosted outside an inn by a strange man who seems to have mistaken her for someone completely else!
The man turns out to be the valet of one Mr Darcy who Helen recognizes by name as a infamous gamester (it should be noted that the heroine cant help but think this is an alias as will the reader)
After interrogating her the elegant Mr Darcy finally realizes that she isnt the person he is looking for.But her trunk does belong to the person in question.(there was a mixup of the luggage)
He proposes that Helen pose as his wife and help him flush out the original owner of the trunk.She agrees after Mr Darcy promises to pay her handsomely for her time...and she cant help but feel curious about what his goal with all of this is.
And who exactly is Mr Darcy really?
I really liked the no nonsense attitude of the heroine and the and the witty dialogue between Mr Darcy and Helen.It was just something so comfortable about it,instead of having the two be constantly odds with each other constantly,thís couple actually works together. It was also funny how the supporting characters believed they were a genuine married couple since they got on so well.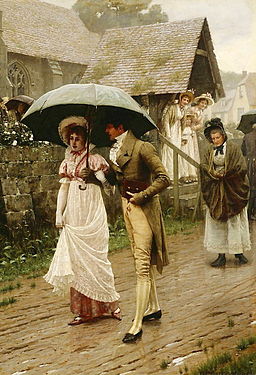 If I have to complain about something I felt that the plot became a little more bogged down towards the end and also some too convenient circumstances occured,but it was only a minor nuisance since it was just a small part and the bigger part of the book was a very good read.
I would recommend this to readers who enjoy regencies by Joan Smith or Barbara Metzger,or just a plain fun regency overall.